GOALS TO BE ACCOMPLISHED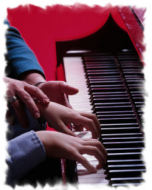 During the private lessons, students of an early age are taught basic hand position to develop good piano technique, the value of reading music, understanding note values and music theory to be able to understand the structure of music. Also, the student develops strong rhythmic skills as well as good sight reading skills. As the young student advances, is introduced to the basics of music by learning scales, arpeggios and cadences for the development of technique and musicianship. Ear training is also emphasized as its an important tool to learn to recognize musical tones, chords and rhythmic dictation among other valuable things.
As students progress to the intermediate and advanced levels, the study of theory is continued along with higher levels of technique with an emphasis on the development of producing beautiful tonal qualities, expressiveness, understanding musical phrases and broadening a palette of tonal colors. At the same time the students are introduced to the piano repertoire of the great master from the baroque, classical, romantic, impressionistic and contemporary periods. All students are required to develop sufficient musical and technical skills to be able to perform the works of Bach, Mozart, Beethoven, Chopin, among other great composers.
All students are encouraged to take the theory examinations in the fall and spring sponsored by the Texas Music Teachers Association. This exams are for beginners to advanced students and monitors the progress of each students. Students receiving the higher scores are recognized with gold medals and other awards. Also, in the spring all students participate in the National Piano Guild Auditions sponsored by the American College of Musicians. These auditions are for all students from the very early levels to advanced as long as they are well prepared for their level.
There are also recitals and group classes to encourage the students to play for one another and become comfortable performing in public. There are also many other activities and competitions where students can participate according to how they advance and develop their skills.