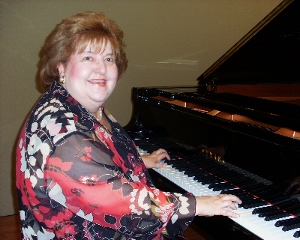 Mariblanca De Pujadas,
began her music career as a child prodigy at the age of two. In her native Barcelona, Spain her exceptional gifts brought her to the attention of Frank Marshall, the eminent piano pedagogue and successor of the Granados Piano Academy. At a very early age she performed as soloist with symphony orchestras and later she toured several countries in South America. At the age of five moved to the United States and continued her studies with the legendary Russian master teacher Sergei Tarnowsky (Vladimir Horowitz teacher at the Kiev Conservatory 1914-1919). Later continued her studies with Jakob Gimpel, Aube Tzerko and Lillian Steuber at UCLA and at the University of

Southern California. In her late teens Mariblanca returned to Spain to concertize and further her studies at the Conservatori Superior de Musica del Liceu in Barcelona where she graduated with high honors receiving the Diploma in Piano Performance. Returning to the U.S., did post-graduate work in New York at the Juilliard School of Music under the eminent Adele Marcus.
Mariblanca has over 35 years of teaching experience. She was in the music faculty at the Los Angeles Conservatory of Music and at the Music Center School for the Performing Arts. She has performed with major symphony orchestras and her students have been winners in many competitions and have also performed as soloists with symphony orchestras. Mariblanca has been an adjudicator since the early1980ís for the annual piano auditions of the National Guild of Piano Teachers of the American College of Musicians and is a member of the Texas Music Teachers Association and the Music Teachersí National Association.
Mariblanca is fully dedicated to her teaching and in developing the best musical abilities in every student to the highest standards. Mariblanca accepts beginners, intermediate and advanced students of all ages as long as the student is willing to devote the necessary time and effort to make adequate progress.